Description
Display stands bearing specific branding serve as multifaceted promotional instruments that can elevate a brand's persona and boost revenue by presenting merchandise aesthetically pleasing and systematically. Their availability in a diverse range of materials and stylistic configurations allows them to accommodate a broad spectrum of product requirements and environmental contexts, thereby providing a high degree of adaptability for commercial enterprises and retail outlets.
Where to buy branded displays stands
Do you want to attract customer attention more effectively? We're here to help – we've prepared a list of places to buy a branded display stands. From online marketplaces to manufacturers, these options offer a wide range of styles, designs, and materials to suit any need.
Retail display shelving
The branded display stands are visually appealing and of high quality. They are made from acrylic, with a depth of 300mm and height of 1000mm. Aan hold a weight of up to 15kg. The stand also includes header graphics, shelf edge branding, and custom designs, all of which enhance the look of the display.
The Branded Display Stands are perfect for retailers looking to promote their brands and products. The stand's features make it versatile, with graphics and adjustable shelving. Retailers can also customize the stand's color and finish to match their brand's identity, creating a cohesive look throughout their store.
The stand's customizability, versatility, and aesthetic appeal make it perfect for promoting different products, such as makeup, snacks, or tech gadgets. The display's high-quality materials also ensure durability and longevity, making it a worthwhile investment for any retailer looking to enhance their in-store marketing.
Free standing display unit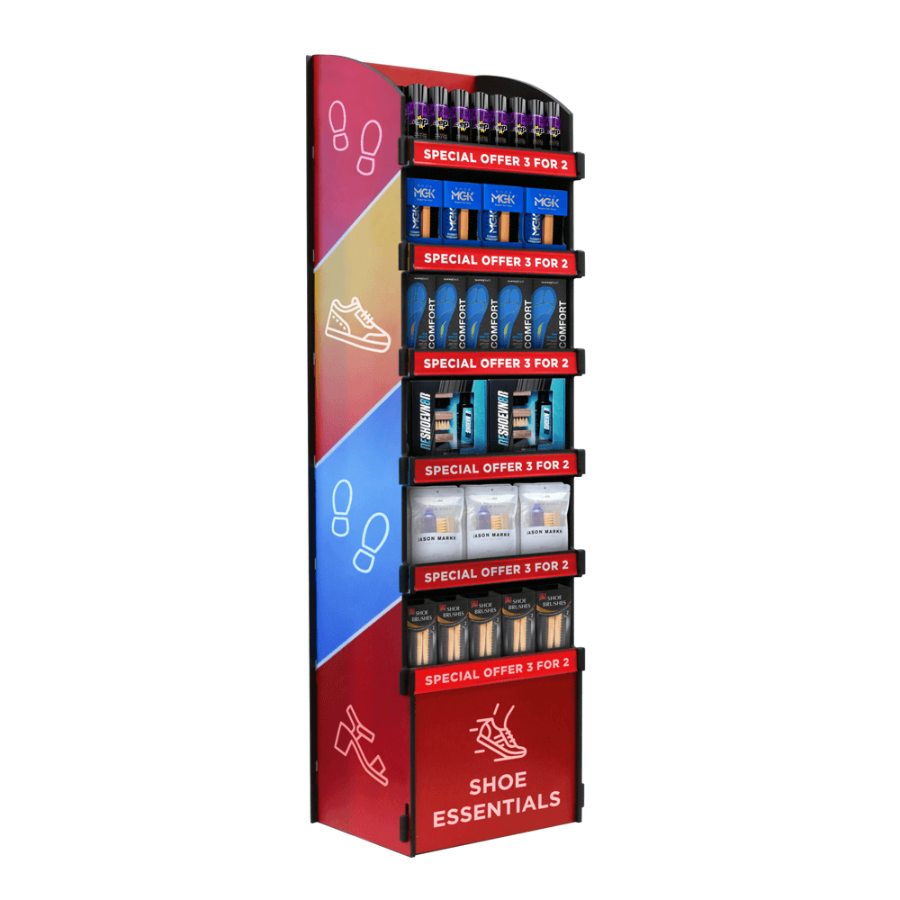 The premium free-standing display unit, offered by UK POS, is a lightweight branded display stand made from high-quality acrylic. It measures 1800mm in height and has a width and depth of 800mm and 400mm, respectively. This display unit can be personalized with a logo or color to suit needs.
This display unit is ideal for retailers looking to showcase their products or services. It features a double-sided display, allowing for maximum visibility, and comes with a top header board and adjustable shelving. Its compact and sturdy design makes it easy to move around and reposition as needed.
Its modern design, versatility, and durability make it an excellent choice for any business looking to promote its brand and products.
Pop display stands
The branded cardboard floor display stand is an environmentally-friendly, recyclable display stand made from cardboard. It measures 800mm in width, 400mm in depth, and 1800mm in height.
This display stand is perfect for retailers looking for an eco-friendly, cost-effective way to showcase their products. It features a full-color print of the brand's logo or design, adjustable shelving, and a header board. It is easy to assemble and disassemble, making it convenient for transportation and storage.
The branded cardboard floor display stand would be most suitable for fashion, beauty, or food retailers. Its eco-friendly materials and customizable design make it an excellent choice for businesses looking to promote their brand while being mindful of its environmental impact.
Pay attention
When purchasing branded display stands, several factors must be considered to ensure that they meet your business's needs and goals. These factors include:
Purpose and Location: Determine the purpose of the display stand and where it will be placed to select the appropriate size, shape, and design.
Materials: Consider the materials used in the display stand's construction and their durability, sustainability, and aesthetic appeal.
Customizability: Look for display stands that can be customized with your brand's logo or design to increase brand recognition.
Assembly and Portability: Consider how easy the display stand is to assemble, transport, and store.
Cost: Determine the budget for the display stand and compare prices and features of different options to find the best value for your money.
Brand Image: Ensure that the display stand aligns with your brand image and messaging to maintain consistency across all marketing materials.
By considering these factors, businesses can select branded display stands that effectively promote their products and enhance their brand image. Look at other products we offer that could attract customer attention more effectively, for example, countertop display stands.